BetaTOR is a specific form of a supplement scientifically known as hydroxymethylbutyric (HMB) which helps in reducing muscle breakdown by fighting catabolism*. The ingredient is unique in the sense that it has the capability of passing through the digestive system undamaged unlike other forms of HMB*. In addition to that, BetaTOR is also absorbed fast in the body*. In fact, one study carried out on subjects who took BetaTOR found out that there was a 97 percent increase in its concentration in their blood as opposed to other components of HMB like placebo*.
How it works:
Once ingested and absorbed in the muscle, the compound BetaTOR then activates the muscle-building process popularly known as p70S6k/mTOR pathaway*. For any muscle to build itself up, this pathaway must be activated*. Additionally, the compound also works on a different pathaway known as the UPPP by shutting down its activities*. This is because the UPPP pathaway is responsible for breaking down of muscles, a process known as catabolism*. By shutting down this UPPP, the muscle breakdown process is then reduced while the protein synthesis in your muscle is increased*. The result is a lean body structure with increased body mass general body strength*.
A clinical study conducted at the University of Tampa to test the effectiveness of this supplement returned extraordinary results*. The study that involved a 12-week training program sought to determine the total average weight gained by a number of physically well-conditioned athletes. Users of ClearMuscle gained an average of 16lbs muscle in the stipulated time frame, the highest ever recorded in history*. The control experiment that involved placebo only returned an average body mass of 4.6lbs*.  Results are shown below: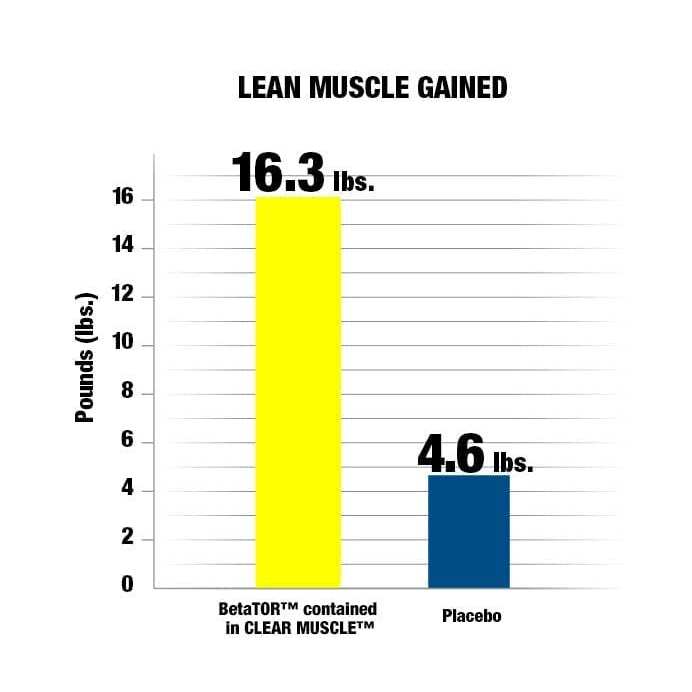 Huge gains were seen by subjects using ClearMuscle as oppose to the Placebo group.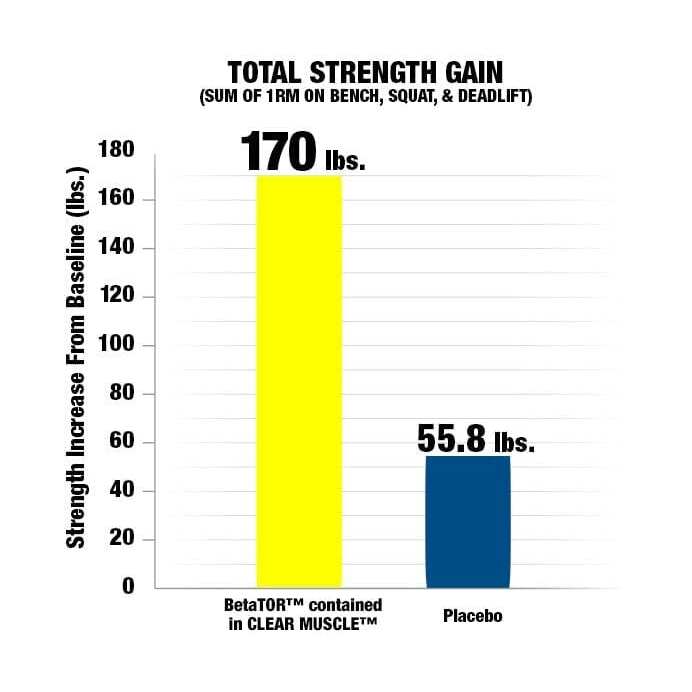 Subjects also gained a massive amount more strength on ClearMuscle compared to the Placebo group*.
Dosage:
It comes in clear-liquid 84 capsules in total. Users should only take one serving of 2 capsules in the morning, 2 capsules in the afternoon and another 2 capsules in the evening. This should be accompanied with intense physical training at the gym and not just the ordinary jump and toss.* On workout days, it is advisable to take 1 capsule about 30 minutes before you begin your training. However, you should not take more than 6 capsules within a period of 24 hours. And for optimal results, ensure you follow the exact training procedure as the subjects in the study at Tampa University*.  It's recommended to take clear muscle for 12 weeks which is 3 bottles worth, because of this we're offering a price discount for buying 3 or more!
Precaution:
This product is only meant for use by adults. Pregnant or lactating women should not use the supplement. It is also advisable to seek professional medical opinion from a qualified physician if you are on another medication or have a medical condition.